About Lesson
The starting point for any 3D printing process is a 3D digital model, which can be created using a variety of 3D software programs — in the industry this is 3D CAD, for Makers and Consumers there are simpler, more accessible programs available — or scanned with a 3D scanner.  The model is then 'sliced' into layers, thereby converting the design into a file readable by the 3D printer. The material processed by the 3D printer is then layered according to the design and the process.
Extrusion / FDM / FFF
3D printing utilizing the extrusion of thermoplastic material is easily the most common — and recognizable — 3DP process. The most popular name for the process is Fused Deposition Modelling (FDM), due to its longevity. The process works by melting plastic filament that is deposited, via a heated extruder, a layer at a time, onto a build platform according to the 3D data supplied to the printer. Each layer hardens as it is deposited and bonds to the previous layer.
2. DLP
DLP — or digital light processing is a 3D printing process that works with photopolymers. DLP uses a conventional light source, such as an arc lamp, with a liquid crystal display panel or a deformable mirror device (DMD), which is applied to the entire surface of the vat of photopolymer resin in a single pass.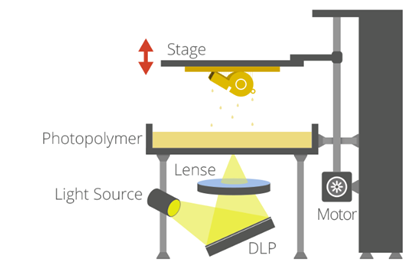 3. Laser Melting


Laser melting works with powdered materials. The laser is traced across a powder bed of tightly compacted powdered material, according to the 3D data fed to the machine, in the X-Y axes. As the laser interacts with the surface of the powdered material it sinters, or fuses, the particles to each other forming a solid. As each layer is completed the powder bed drops incrementally and a roller smoothest the powder over the surface of the bed prior to the next pass of the laser for the subsequent layer to be formed and fused with the previous layer.

Note: There is a lot of other 3d printing processes but the above three are mostly used for learning and designing